Datachain contributed its interoperability project "YUI" to Hyperledger, an open source collaborative effort created to advance cross-industry blockchain technologies hosted by the Linux Foundation. YUI has been accepted as a project in the Hyperledger Labs. 
In the future, Datachain will continue research and development of the interoperability project YUI and deepen cooperation with the Hyperledger community to provision new interoperability solutions for companies in Japan and abroad.
---
What's YUI?
Datachain has been conducting research and development on blockchain interoperability. Based on these results, Datachain launched the interoperability project "YUI" and has now contributed it as open source code to Hyperledger, where will be developed as a project in the Hyperledger Labs.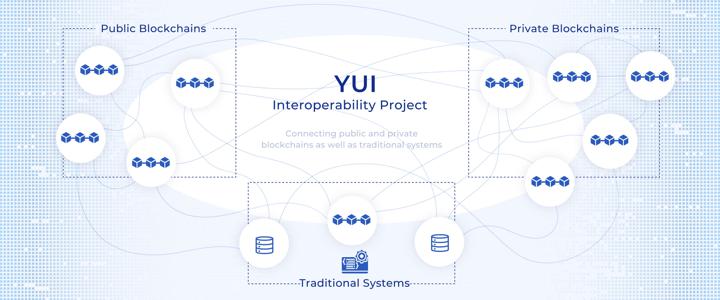 The word "YUI" is derived from a Japanese word to represent knot, join and connect.
YUI provides modules and middleware to enable application development and communication between multiple blockchains. YUI uses IBC (*1) as the communication protocol between blockchains. It also supports major enterprise blockchains such as Hyperledger Fabric, Hyperledger Besu, and Corda.
YUI's technology enables the integration of multiple blockchains, such as token transfers and atomic swaps, including DvP payments. YUI is expected to be applied in various areas, such as digital currencies, local currencies, STO, international trade, and NFT, where transactions occur between multiple blockchain platforms.
The Hyperledger Labs page for YUI is here.
*1 IBC: Inter-blockchain communication protocol, a specification standard to ensure interoperability between blockchains, being developed by the Interchain Foundation and the Cosmos Project.
Future Initiative
In the future, Datachain will continue its research and development efforts on the YUI interoperability project and deepen its collaboration with the Hyperledger community to provide interoperability solutions to companies worldwide.
Datachain and Shanghai Bianjie AI Co., Ltd, the developer of IRISnet, will be speaking at the Hyperledger Global Forum, which is held from June 8 to June 10, 2021. We are planning to introduce YUI, so please join us.
https://hgf2021.sched.com/event/j3cz
Follow us on Twitter to get more updates: @datachain_en